STAR MEN at the Bloor Hot Docs Cinema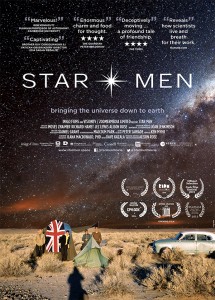 Four of the world's most distinguished astronomers celebrate 50 years of work and friendship with a road trip through the southwestern United States, discussing and exploring the mysteries of the universe. Recapturing youthful adventures and recounting each other's influences on the most exciting period in astronomy's history, they share roots from a time following Russia's launch of Sputnik, when the U.S. accelerated their space program. The four British astronomers spent a formative year together in California in the early 1960s. Star Men looks at how the work of these men has shaped our understanding of the universe and our humble place in it. Tracing the major discoveries in astronomy in the 20th century through these four men, director Alison Rose also explores friendship and mortality-and the fleetingness of our lives played out under the stars.
Showtimes: February 12 – February 18, 2016
Director Alison Rose and subject Prof. Donald Lynden-Bell will be in attendance for Q&As at all screenings.
Opening Night: Join us for ASX Movie Night, and  CITA at Paupers afterwards for an all-physics and astronomy beer.
Special Family Day Screening: February 15, at 3:30 p.m. Admission is free for those 16 and under.
Enter for your chance to win a pair of FREE tickets!
Ilana MacDonald and Prof. Peter Martin of U of T astronomy played important rolls on the film:
Film's Astronomy Researcher and Outreach Liaison: Ilana MacDonald, PhD, CITA Post Doctoral Fellow.
Film's Astronomy Script Consultant: Prof. Peter Martin, PhD, FRSC, CITA & Dunlap Institute Founder, Department of Astronomy & Astrophysics.
Co-presented by the Canadian Institute for Theoretical Astrophysics, Department of Astronomy & Astrophysics (U of T), and Dunlap Institute for Astronomy and Astrophysics