What ifs Scientific Poster Competition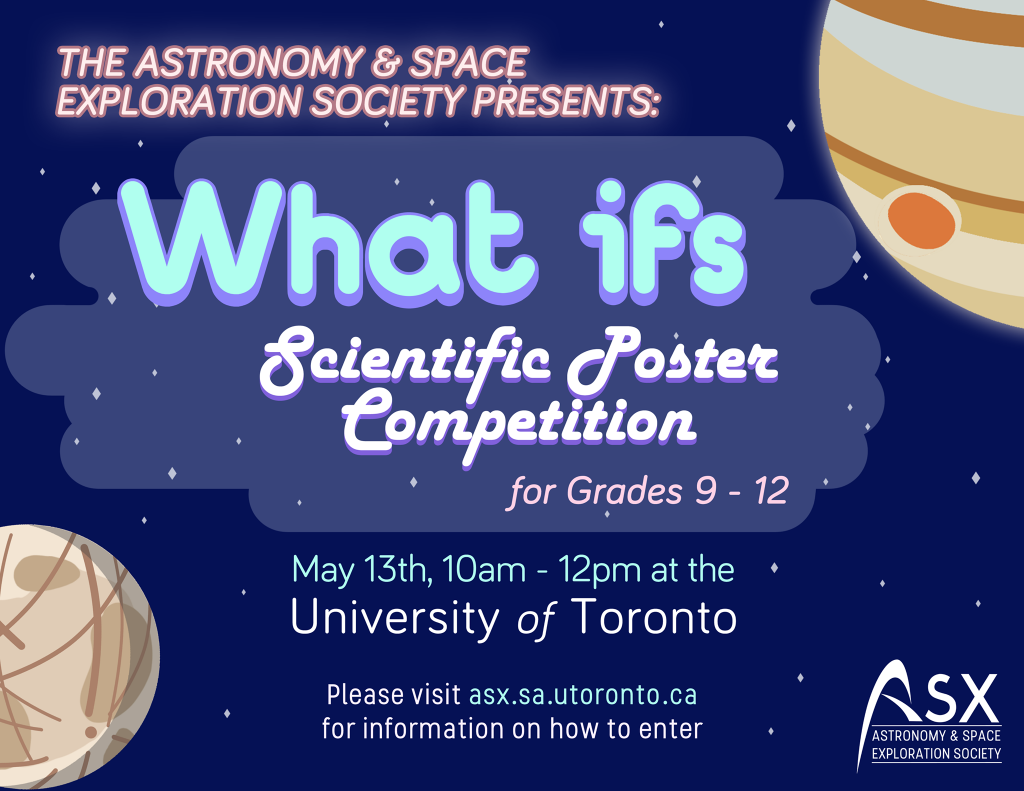 What ifs Scientific Poster Competition is a competition organized by the Astronomy and Space
Exploration Society (ASX). ASX is a non-profit organization run by the University of Toronto
space community in Ontario, Canada. ASX's purpose is to educate, excite, and inspire students,
professionals, and the general public about astronomy and space.
The aim of the competition is to provide students in grades 9-12 with an opportunity to explore
the field of astronomy and space science. Students will investigate a topic from an active research
area and share their work with other space enthusiasts.
Students can choose to work individually or form a team with a maximum of three members.
(Note: only one person in the team needs to fill out the registration form, but they will need to
provide names and email addresses of the other team members.) Students may work with students
in different grades (9-12) and from different schools, if they would like.
Students will present their work in form of a poster. Posters should be a regular Bristol board
(22" x 28"), which can be found at a local dollar store or Staples. Students can choose to use a
(larger) poster board, but that is not required.
The competition will take place 10:00 am to 12:00 pm on Saturday, May 13, 2017 at the
University of Toronto. Students will have a chance to present their posters to professors and
graduate students from the Department of Astronomy and Astrophysics at the University of
Toronto. Each team will receive a certificate of participation, and prizes will be awarded to the
top two posters/presentations. In addition, the winning posters will be displayed at the ASX booth
for Science Rendezvous*, which takes place on the same day. We will serve light refreshments
and snacks after the competition.
*Science Rendezvous is a free one-day street festival that brings cutting edge science and
technology to the streets of downtown Toronto. The University of Toronto chapter partners up
with our world-class laboratories, engineering design clubs, hobbyists, researchers, and scientists
to introduce children and adults how science, technology, engineering, mathematics(STEM) make
our everyday lives better. This year's theme is set around scientific achievements in Canada over
the past 150 years. We encourage you to take part in this festival which runs from 11:00 am to
5:00pm, after the competition. To learn more about SR, visit their website: Science Rendezvous UofT .
For the competition, you can choose one of the topics listed below OR another topic you are
interested in. We have provided some areas you should consider for each topic, but please feel free
to look at other aspects, the hints are just to help you get started.
What if there is water on Europa, one of Jupiter's many moons?
Things to consider: What is the potential for life on Europa? What is the significance of a
spacecraft mission to Europa? What does presence of water on other celestial bodies mean for
future space exploration?
What if the Milky Way collided with another galaxy?
Things to consider: What is the immediate and long-term impact on our solar system? What is the
impact on life on Earth? What is the effect on the structure of the two galaxies?
What if you were developing a commercial craft for long-term space travel?
Things to consider: What are some technological/engineering challenges in designing this craft?
How does long-term space travel affect the human body? What fuel source are you going to use?
If you are interested in taking part in this competition, please complete the registration form:
Form.
**Registration and participation in the competition is completely FREE!**